DuckLife 2: World Championship is the second installment in the DuckLife series.There is DuckLife 1, 2, 3, 4 and 5. It serves as the sequel to the first ducklife game.
Differences
Edit
You can now climb
The Skill Seed now only gives your duck energy
Different locations are used for racing
New cheat and level editor features after completing race
Storyline
Edit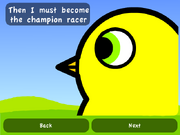 When you go on the ducklife 2 title screen, you have the ability to name your duck before you continue on the game. Then, an intro opens up.
The champion duck: Hey (Your duck's name)
The player's duck: Sup
The player's duck: Wow nice crown! Where'd you get it?
The champion duck: You only get one if you're the champion racer
The player's duck: Then I must become the champion racer
And the game starts
Ad blocker interference detected!
Wikia is a free-to-use site that makes money from advertising. We have a modified experience for viewers using ad blockers

Wikia is not accessible if you've made further modifications. Remove the custom ad blocker rule(s) and the page will load as expected.